Get  here detailed info on: Can a dietician help lose weight? Also info on topics associated with it…!!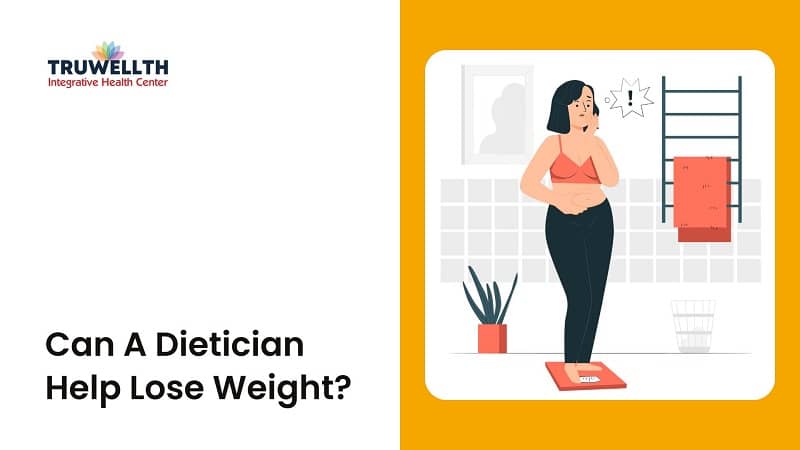 Weight loss can be a very useful intervention in many conditions as it restores the physical condition as well as function. When the internal bodily disturbances are restored, the system works harmoniously to alleviate the symptoms of many conditions. This is applicable to hormonal conditions such as PCOS, metabolic disorders such as diabetes, as well as reduce the risk of heart attack, stroke among many others.
Achieving and maintaining a healthy weight is crucial for overall health since it can help you avoid and manage numerous diseases and ailments. Being overweight increases your risk of heart disease, high blood pressure, type 2 diabetes, gallstones, respiratory issues, and several malignancies. You feel better about yourself, have more energy, and your risk of acquiring these issues is reduced.
Weight loss is important, but there is no "one size fits all" plan. It is a very personal journey that differs with each individual based on their body composition, metabolism, and many other parameters.
Blood pressure, blood cholesterol, blood sugar levels, and other indicators are likely to improve with even a small weight loss of 5% to 10% of your total body weight. If you're focused on losing weight, you may be wondering if a dietician or nutritionist is the right choice, read on to find out more.
Can Dietician Help Lose Weight?
A dietician is a professional who has completed a degree in food, dietetics, and wellness and registered with government bodies, and accredited institutions. While working on a weight loss program, a dietician will:
Take a  nutritional history to understand your eating pattern
Make a detailed analysis of your food habits and preferences
Customize a diet that is right for you depending on any medical conditions you may have
Help you plan a healthy and nutritious diet
A qualified dietician can guide you through medical nutrition therapy that is based on individual recommendations. They will guide you to bring about required changes and switch to a healthier dietary guideline.
Other factors such as daily routine, habits, food choices, and any other religious or cultural considerations are kept in mind while designing a diet plan for you
The most commonly asked questions is should i see a dietitian or nutritionist to lose weight. Both of their roles are related but different in terms of their training and approach
The Registered Dietitian Weight Loss Program
A weight loss regimen with a registered dietician includes
A detailed assessment of the medical and nutritional history
Arriving at the right balance of nutrients- namely carbohydrates, proteins, and fats
Identification of problem areas where the client is challenged to make the right choices
Identify habits that may have an impact on weight loss
Customizing the diet plan according to the client's preferences and consideration
Devise strategies that work for the client to keep the weight off
Weight Loss Dietitian
The weight loss dietician plays a major role in the journey to lose weight. They assess, analyze and devise a science based approach that will work for you.
The best dietitian for weight loss
If you are looking for a professional to guide you to lose weight, Rajashree Gadgil is the best dietician for weight loss. With many years of experience, she will guide you with a plan that is sustainable and work towards losing the weight as well as keeping it off.
Rajashree Gadgil – Best Dietitian in Thane
Rajashree Gadgil (founder of TruWellth… Best Dietitian Center in Thane) is highly respected in the HealthCare and Nutrition space, as she mainly aims at reversing, controlling & preventing several ailments, like: Cardiac Disease, Diabetes, Weight Loss, PCOS, Digestive Disorders Pain, Bone & Joint Issue and various more…
Rajashree Gadgil firmly believes in  the fact that nutrition can be modern days' most effective & safe therapy in several lifestyle, Infectious & Autoimmune Diseases.
This ultimately makes her the best dietitian in Thane, Maharashtra, India.
The best nutritionist for weight loss is someone who helps you with understanding the nutritional basis of foods that come in handy while faced with the numerous choices available in the market today.
Taking the help of a dietician / nutritionist to lose weight involves understanding how food works for the body and the strategies to healthy eating.
Making small but mindful changes in the way you eat can have a profound impact on weight loss, and ultimately your health. Moderation is the key and listening to your body will help you understand what kind of changes you may need to make in order to achieve a healthy weight.
Working with a nutritionist for weight loss means understanding food labels, making smart choices, and work with mostly healthy individuals. If you want to lose the weight to keep fit and stay healthy but do not have any major underlying conditions, then a nutritionist can guide you well
References: